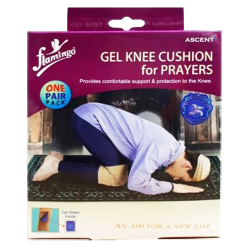 Gel Knee Cushion for Prayers (Pair)
In cases of mild to moderate OA Knee & in knee pain. Helps to absorb shock and provide cushioning at kneel down position (when entire body weight is on knees). Allows free range of motion. Made up 2 ways stretch knit fabric and incorporated with gel knee cushion.
Measure circumference of knee.
1) Start with the wider side up.
2) Slide the support up the leg & over the knee. 3) Position the gel knee cushion on the knee.